This guide shows the steps to install SmartCircle Presenter from the App Store.
List of Content:
---
Before we start:
Make sure that the device has a wifi connection to download and update the campaigns.
SmartCircle Presenter is better designed to work on Light Mode. Hence, we suggest changing the appearance if it is set to Dark Mode while installing and setting up SmartCircle Presenter.
Steps:
Part 1: Installation
Open Apps Store and search for SmartCircle Presenter.
Tap Get and download the app.

Click Open. The app will request access to your current location > tap Allow While Using App.
Later, the app will ask permission to send you notifications, select Allow.
Go back to the Home menu and open the settings.
Scroll down to the apps section until you find Presenter.
Open it and make sure that the Managed Mode and Broadcast to network are active.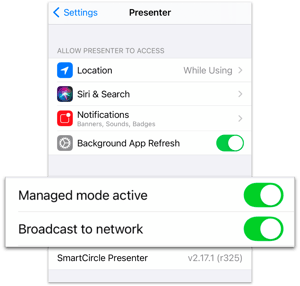 Part 2: Enrollment
The following steps are necessary to assign an iOS device to a specific position and fixture.
This procedure is necessary to run campaigns on the device.
Open SmartCircle Presenter

If you see information about the device (location key, version, SCID, etc.) Then you are running Presenter in Managed Mode, and you can continue with the next steps.

If the app immediately shows you a START button, redo Part 1 from the 5th step.

Either swipe from left to right or click the menu button at the top-left corner.
Select Enroll from the menu.
Enter the ten (10) digit Enrollment code and tap Validate.
Choose the correct fixture and position, then click the Enroll button.
Leave the app open and wait. The campaign will start playing as soon as it is downloaded.
The upload of campaigns might take some time, depending on the speed of the internet network.
You can also verify if the device has been enrolled by going to the Menu > Details. There you will see information about the campaigns, location, fixture, position, and more.
We suggest to enable the Guided Access feature.
To do so, Go to Settings > Accessibility, then turn on Guided Access.
Find more information about Guided Access here.
Video: