Here you will find instructions on how to make a Samsung Retail Mode inactive. And then perform a factory reset.
List of Content:
---
Before we start:
To perform a factory reset, the device requires at least 10% of battery.
We suggest making sure the device has more than the minimum or keep it plugged into a reliable power source while following this procedure.
Steps:
First Part: Deactivation
Open the Retail Mode app.
Click select store setting and enter the code (by default 5444).

The following devices use different passwords:
Z series (Fold and Flip): Ret@il-7398
S22 series: Reta!l-9102
3. Tap on Display Mode Setting and then activate Deactivate Retail Mode.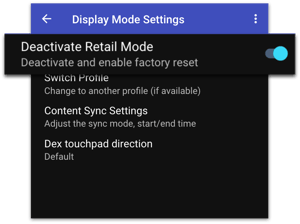 4. A warning message will pop up. Click ok to confirm the deactivation.
Now that the Samsung Retail Mode app is inactive. Go back to the launcher.
Go to Settings. Then you can either:

Tap General management > Factory data reset.
Search for "Factory reset" > Factory data reset.

Tap Reset.
In case there are either information or external apps installed, tap Delete all.
Video: