This guide will help you install SmartCircle from Google Play store or sideloading from https://sensormedia.com/apps
This guide shows the steps to install SmartCircle without using neither a general nor a specific QR Code.
Only follow this method if is not possible to proceed with the QR installation.
Steps:
Download the apps from Sensormedia.com Website:
Download SmartCircle RM and SmartCircle Display
It is also possible to download the app from Google Play Store: (Due to Google regulations, these versions may be limited in functionality)
Set up a Play Store account
Search for SmartCircle RM and SmartCircle Display apps and download them.
Activate the auto-update feature in the Play Store.
Open the SmartCircle RM app to finish the installation. You will see a permission card, enable that permission and then click Activate.
Open the SmartCirlce Display app.

First, you will see a list of Terms and Conditions. Scroll down and tap accept.




Later, you will see a list of Cards. Those cards are permissions that have to be granted in order to allow SmartCircle's full functionalities.
Each card will immediately disappear after they are enabled.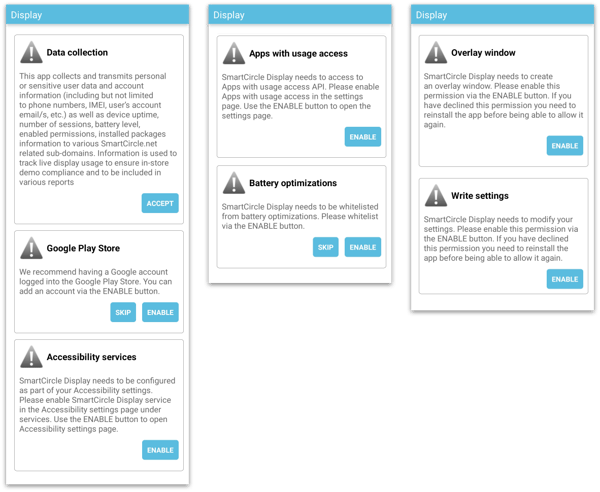 The ONLY card that could be skipped is the Google Play Store permission, if and only if the store doesn't have a Google Account for the devices that will be displayed in the store/kiosk.
Video: