This article includes the best video-creation-practices for campaigns.
To ensure that your videos (and the content displayed in those videos) are properly displayed in all your in-store devices, we have listed the following suggestions that will help you provide the best digital experience across all your stores.
Please remember that nowadays we have an infinite number of devices in the market. This means that it would be complicated to create a campaign that is pixel-perfect for each screen-size. However, following our advice will make it easier to adapt and adjust those videos,
Resolutions that are typically required:
1080 x 2400 - Most devices use this size
1762 x 2082 - For Samsung Galaxy Z Fold3
1440 x 3200 - For Samsung Galaxy S22 Ultra
1440 x 3040 - For iPhone 13 PROMAX
The image bellow shows you the visual difference between the video dimensions mentioned before.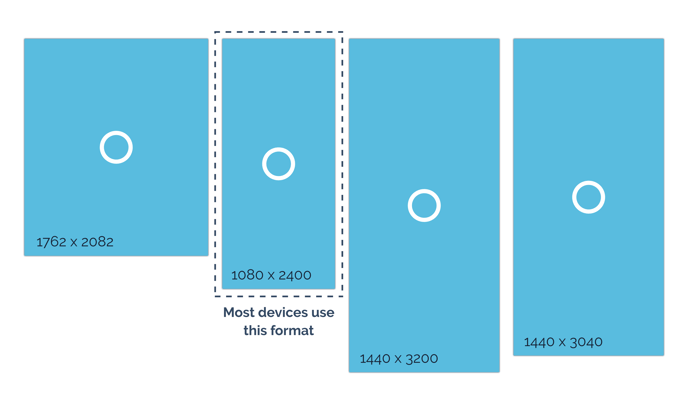 If it is not possible to create the same video in different dimensions. We recommend to create a video with the 1080 x 2400 format following the below specifications.
Using one video for all the screens:
To ensure that your video content is properly displayed in all your devices, please make sure that:
The final format is 1080 x 2400
The main content is located in the middle of the video. Preferably within the white borders.
The content should NOT go beyond the dotted lines besides the background.
The background of the video should be a solid color that does not change (or at least that doesn't change much).
If necessary, download this image and use it as reference.